Welcome back everyone 👋 and big thanks to all new subscribers - thanks for joining along for the ride!
This is the weekly Gorilla Newsletter - we have a look at everything noteworthy from the past week in generative art, creative coding, tech and AI. As well as a sprinkle of my own endeavors.
Enjoy - Gorilla Sun 🌸
All the Generative Things
Agglo by Leander Herzog on Verse
A recent project that I found sincerely captivating was Leander Herzog's Agglo.
Combining a minimal, yet colorful aesthetic, with intricately repeating patterns, captivating visuals emerge:
It feels as if I'm watching a machine that's become sentient - there is something strangely organic about the shifting motions in Agglo.
Mimi Nguyen from Verse wrote a beautiful piece on the project, showcasing some of Leander's intentions behind the project:
It embodies a calculated, technical approach aimed at the creation of compositions within a straightforward system grounded in elementary code, yielding intricate results. Its genesis does not stem from real-world inspirations or specific imagery but represents a technical pursuit.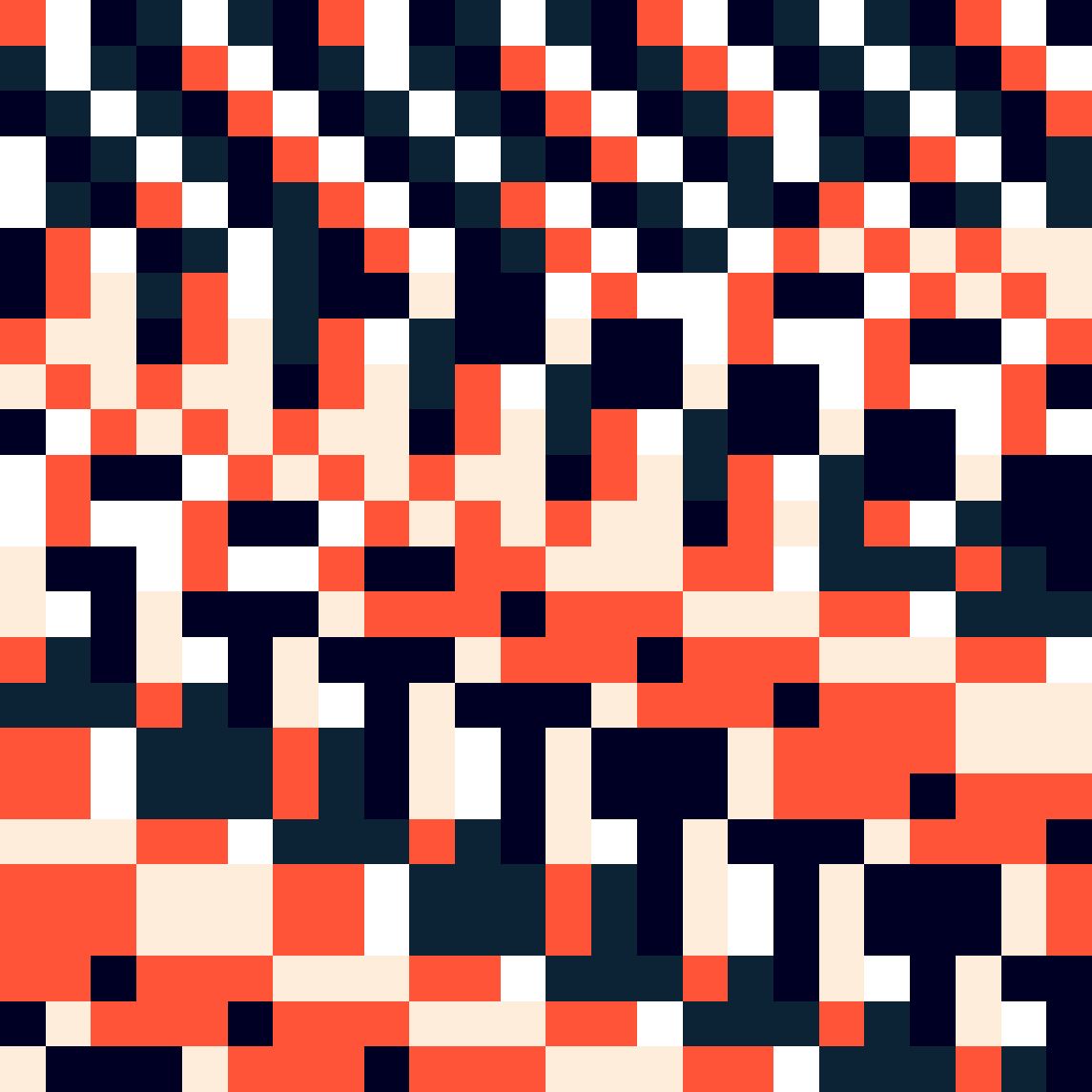 Agglo is impressive on multiple levels, especially the fact that iterations collected by the same wallet will end up syncing with each other, such that they run synchronously (synced shifting motions) when displayed side by side - playing into a broader theme of connectedness.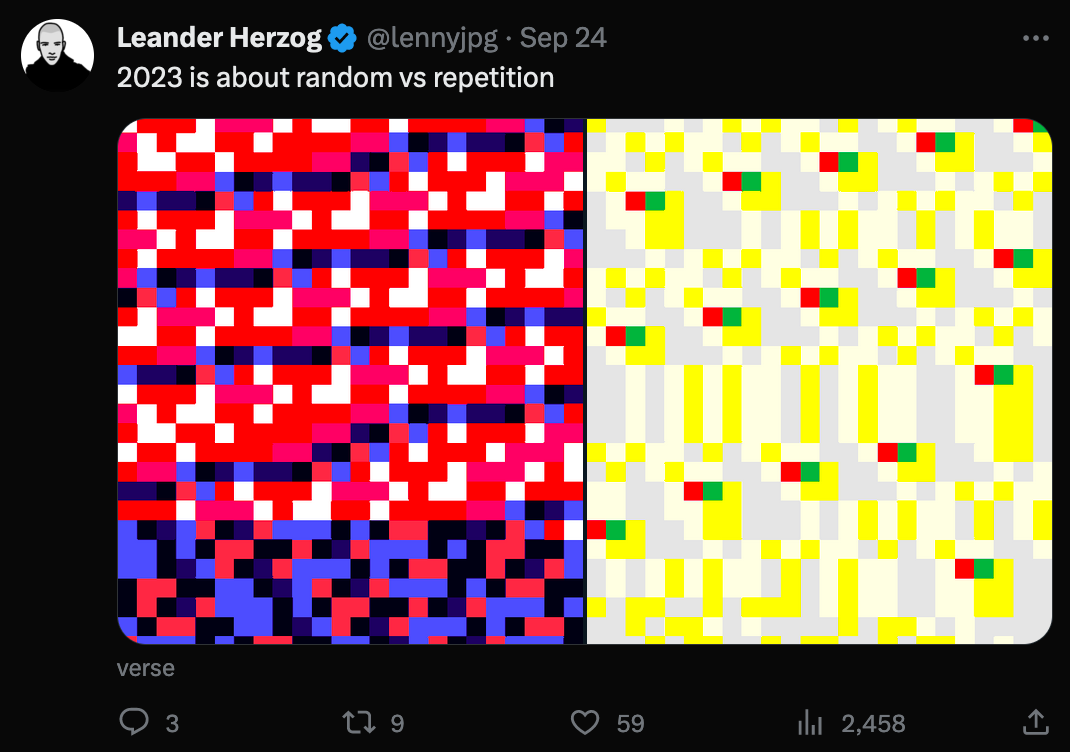 Imo, it's simply a really great piece of generative art - it looks beautiful, the underlying system is intricate and interesting, and it extends beyond itself to do more than just being a pretty piece of generative art. All of that, while still being simple and comprehensible to both artists and audience.
The token goes live on the same day this newsletter lands in your inbox, if you'd like to pick up an edition, as part of Verse's exhibition - Hyperconnections. I recommend checking out the other pieces, as well as the other interviews that Verse has done with the participating artists.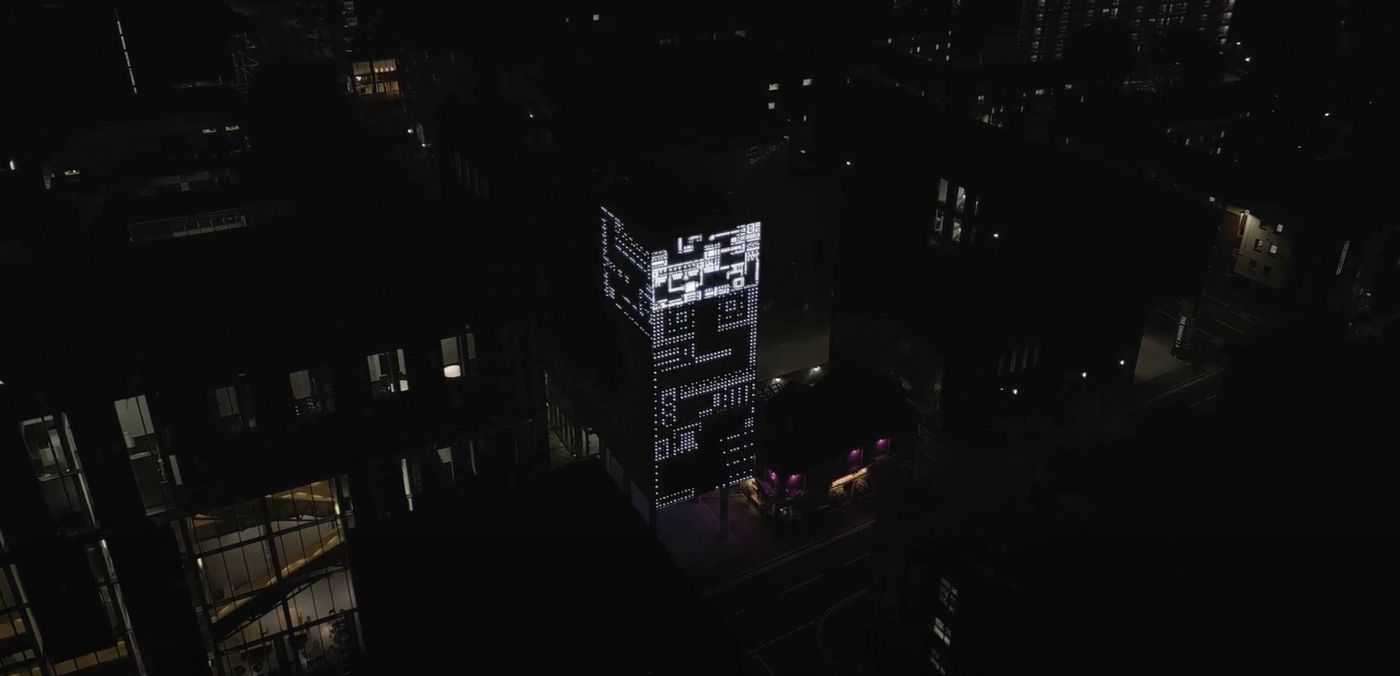 GEN/GEN Generative Generations | Gazelli Arthouse
Generative Generations is Gazello Arthouses latest exhibition running from the 7th of September to the 8th of October at their Mayfair location in the heart of London. The exhibition features work from 6 generations of generative artists, and features and impressive roster:

What's more is that a number of interviews with the participating artists were published: RCS talked to Darien Brito, Sougwen Chung, Ernest Edmonds and Licia He. LeRandom got hold of Rhea Myers for an in depth talk with her.
RCS kicks of their article by asking the artists about their pieces in the exhibition:
I was particularly impressed by Sougwen Chung's work after having a closer look on her website - her work involves programming a robot to mimic her drawing motions and recreating by means of a plotter: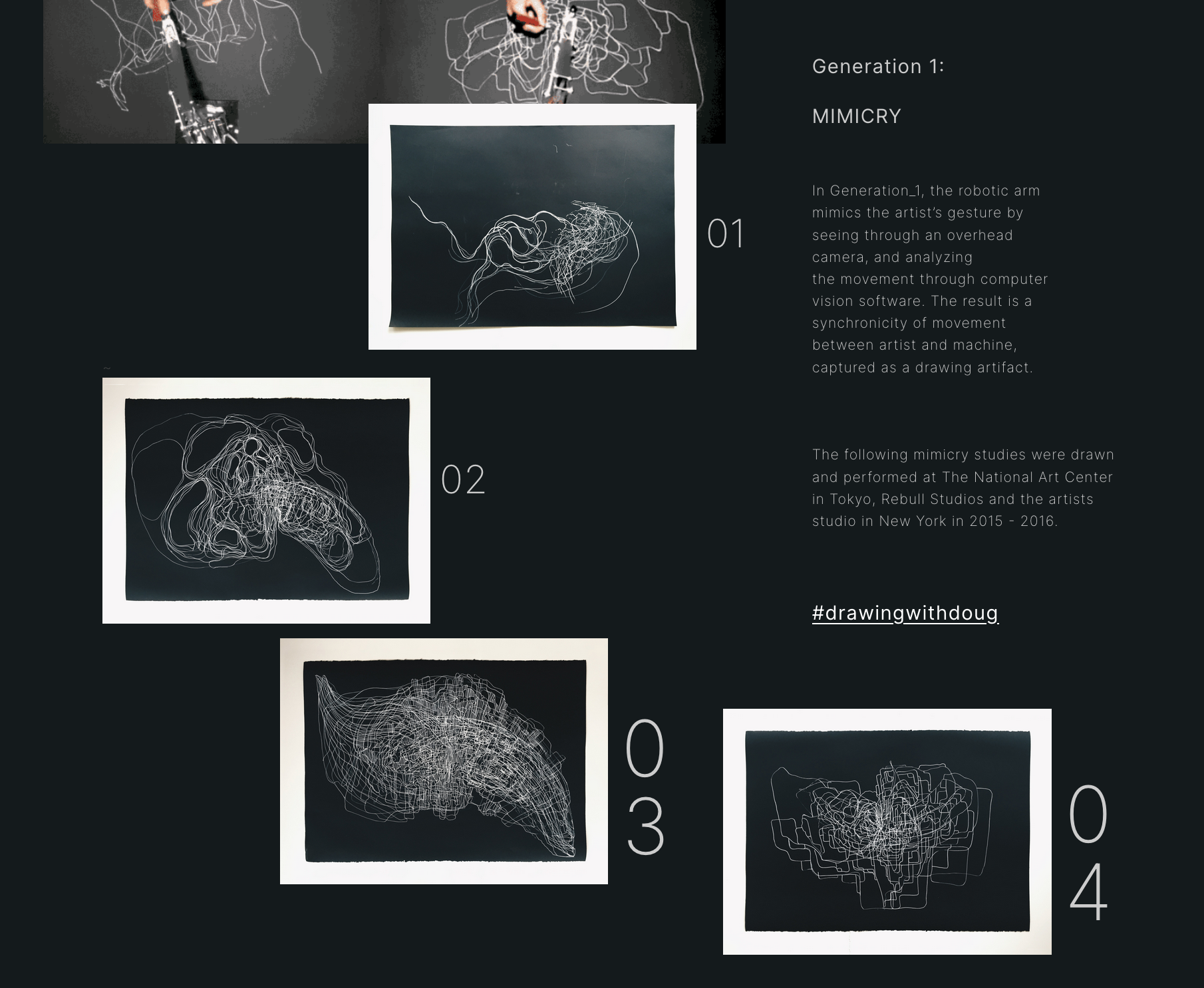 Another question that was posed revolved around the definition of generative art. Although nuanced answers were given, they all agreed on one point: being a generative artist involves creating, designing and fine-tuning a system.
Ernest Edmonds points to a paper that I hadn't previously seen, co-written by him alongside Margaret E. Boden titled 'What is Generative Art?':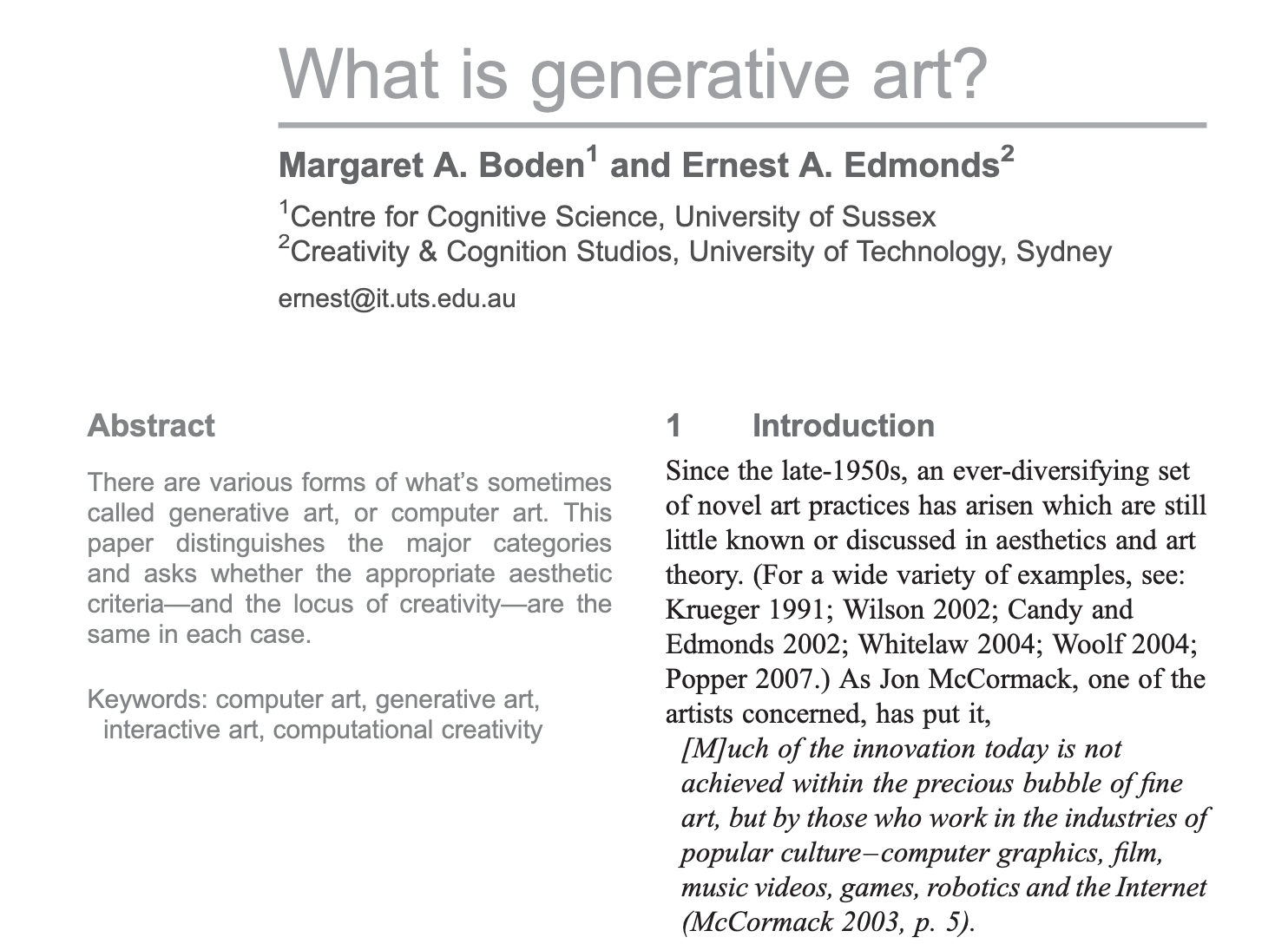 Rhea Myers' work lies at the intersection of culture and technology. She has found an interest in the blockchain as a cultural medium very early on:
As always Peter Bauman steers the interview in a meaningful direction and asks interesting questions:

Whether you're physically in London or not, I highly recommend checking out GEN/GEN and all of the featured artists.
On Craft, Art & Programming
We also get another treat from LeRandom. This time Mark Webster aka motiondesign01 picks up the pen for us.
With a varied body of work ranging from organic neural drawings to more blocky, ascii aethetics - Mark Webster is a powerhouse of generative art: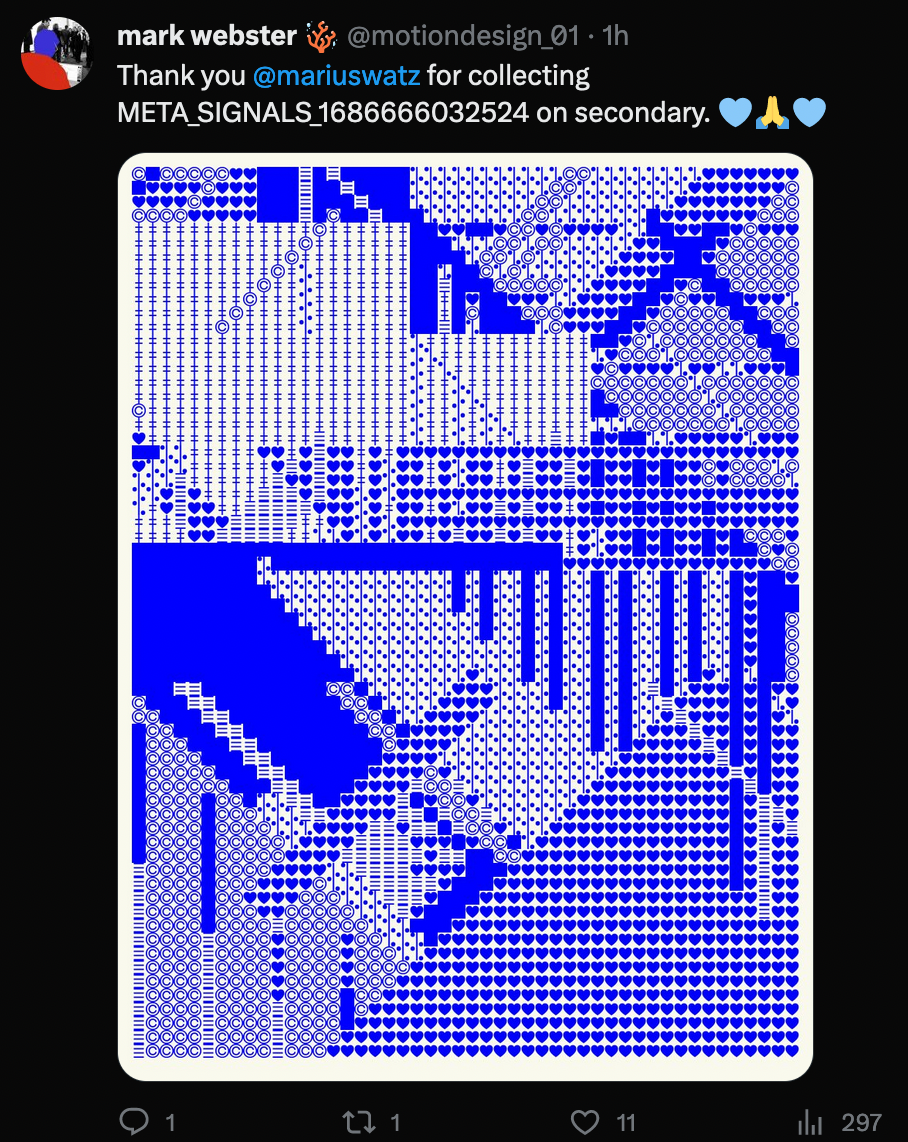 In the essay, Mark addresses several points that revolve around programming, how it is related to crafts and art and how generative art is a modern embodiment of these practices.
He argues that contemporarily the notion of craftsmanship is often hastily overlooked when assessing and attributing value to pieces of art - something that has become increasingly important with modern art-forms. In generative art for instance, the artist-programmer occupies a special place somewhere in between the two realms of art and crafts:
In many ways the modern programmer is a craftsman - after all, learning how to write meaningful code, is an endeavor that requires a considerable effort and dedication to be acquired. At least in my own experience, I've always felt more like a builder and a maker of things, rather than solely being an artist.
A wonderful piece of writing that is informative, yet also leaves you with something to ponder on. Looking forward to more essays in the same style!
And if you're a fan of LeRandom - I've got a surprise for you later this week! 👀
Arbitrarily Deterministic New Episode
Arbitrarily Deterministic is back with another episode! And Ken pulled a real sneaky one on us this week... not gonna spoil it here - just go give it a listen and you'll know what I mean:
In this episode we also get a peek into Ken's interesting plotting practice - something that I think many weren't aware of - and Ken actually makes some absolute bangers! Here's one of the stunning pieces: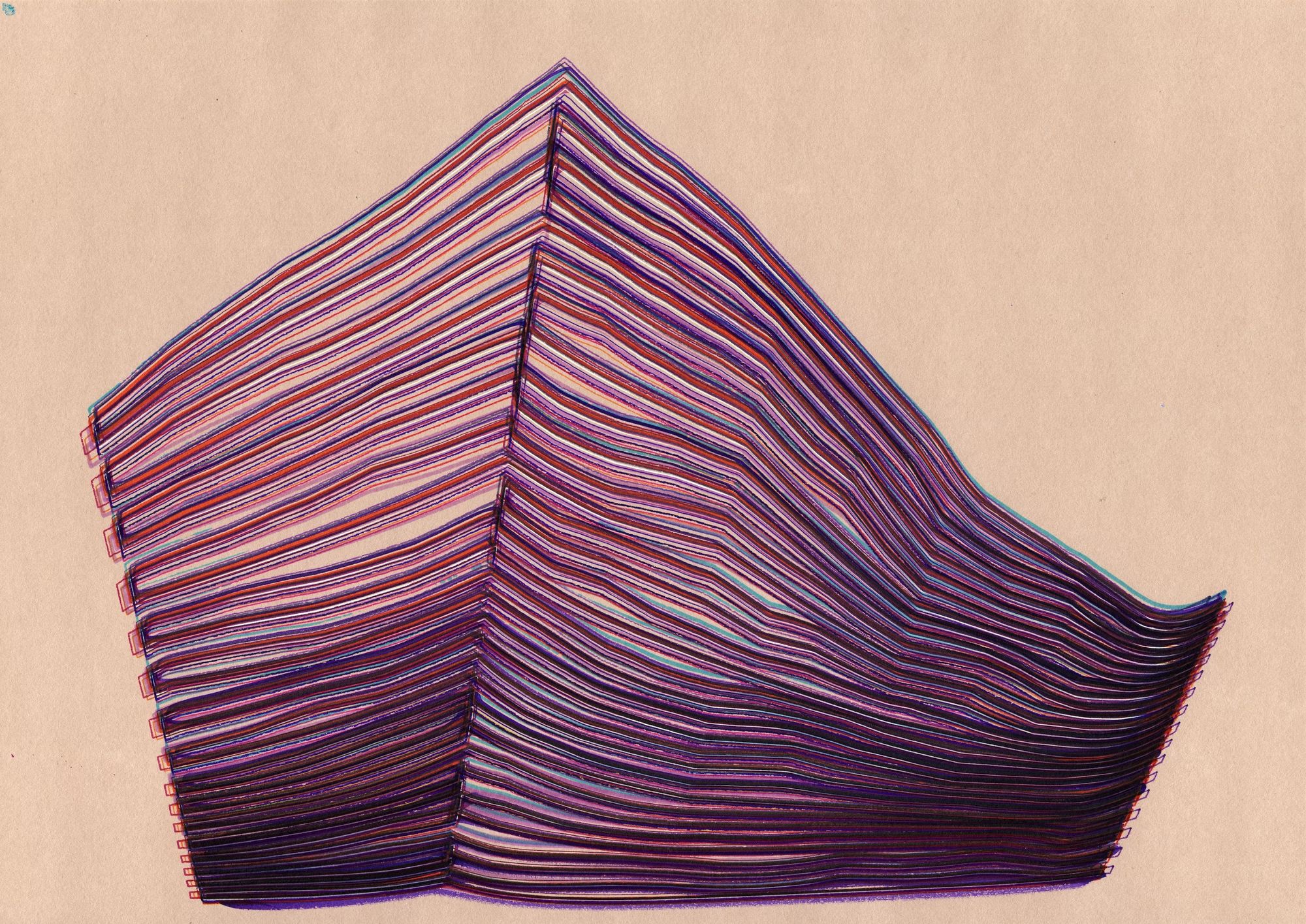 Highly entertaining episode - check it out!
ArtBlocks Marfa 2023 Recap by The Culture Project
One newsletter that I love seeing in my inbox The Culture Project by Josh Ripple aka Abnormality on Twitter. This week they shared a big recap of the Artblocks Marfa weekend - a great way to get a feel for what the event was like:
Really lovely post, thanks so much for making the write-up!
Kate Vass on Generative Photography
Although it didn't get many likes, I found this thread on generative photography highly interesting!
Inspired by Max Bense's 'Aesthetica' Jäger defined the term generative photography. It refers to a methodical creation of aesthetic states through predefined programs, employing photo-chemical, photo-optical or photo-technical operations & merging natural mediums with math tools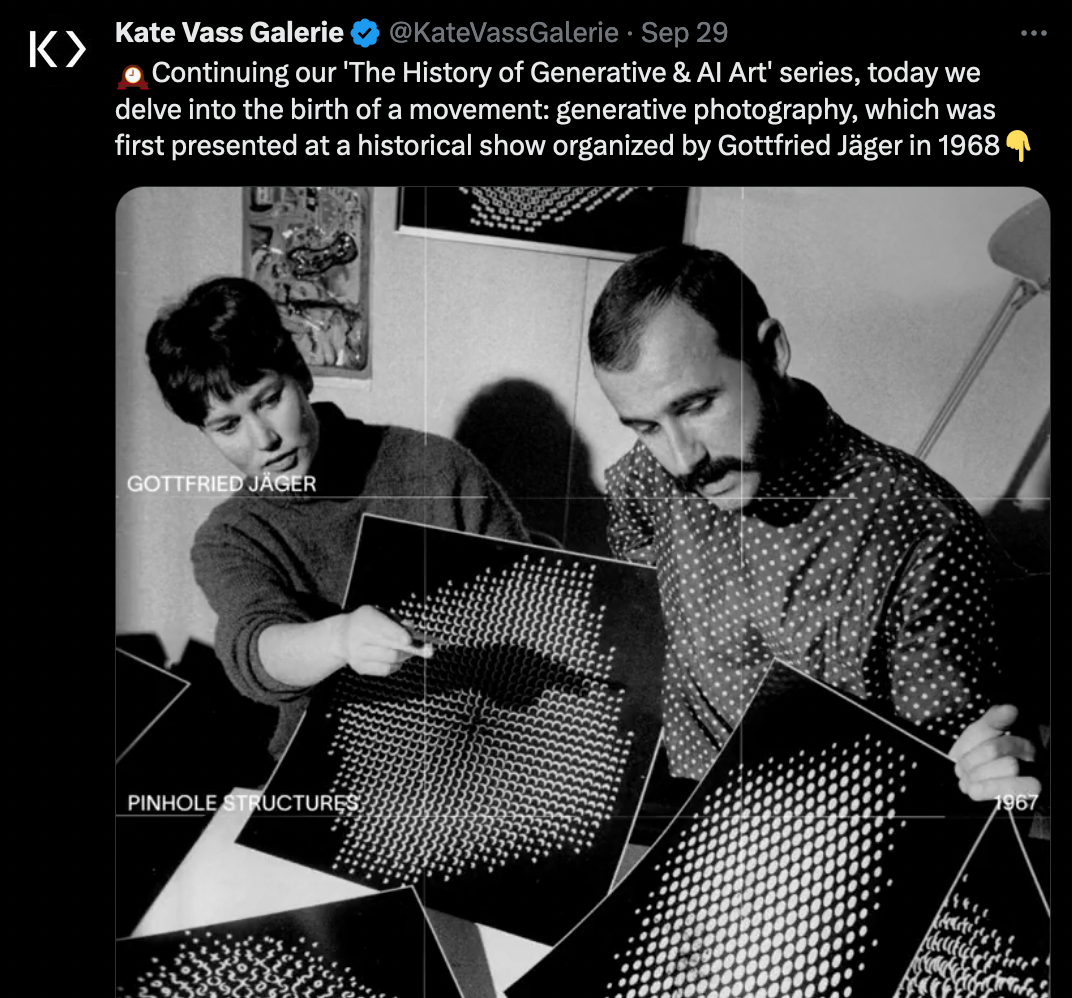 Would love to see a more in depth post on this - maybe that could be an endeavor for the blog?
Mathober & Divtober 2023
Hacktober kicked off last week - this week we have some other takes on the trend that was started by the infamous inktober - the Maths world, and the CSS crowd join in on the fun with Mathober an Divtober.
The Mathober prompts are selected by Sophia Wood aka Fractal Kitty, and can be found on her webpage:

Essentially, you can interpret the prompts as loosely as you want and in any medium of your choosing. Fractal Kitty does so on form of doodles, but you alternatively also do them with code and the like. I'd also recommend checking out some of the lovely creations over on her website.
Divtober actually seems a little more daunting than Mathober, because the prompts are intended to be interpreted in form of a single CSS div - I have no idea how - but I think a lot of it has to do with the ::before and ::after pseudo elements:

Here's some 2022 creations from Lynn Fisher (the organizer behind divtober) from 2022: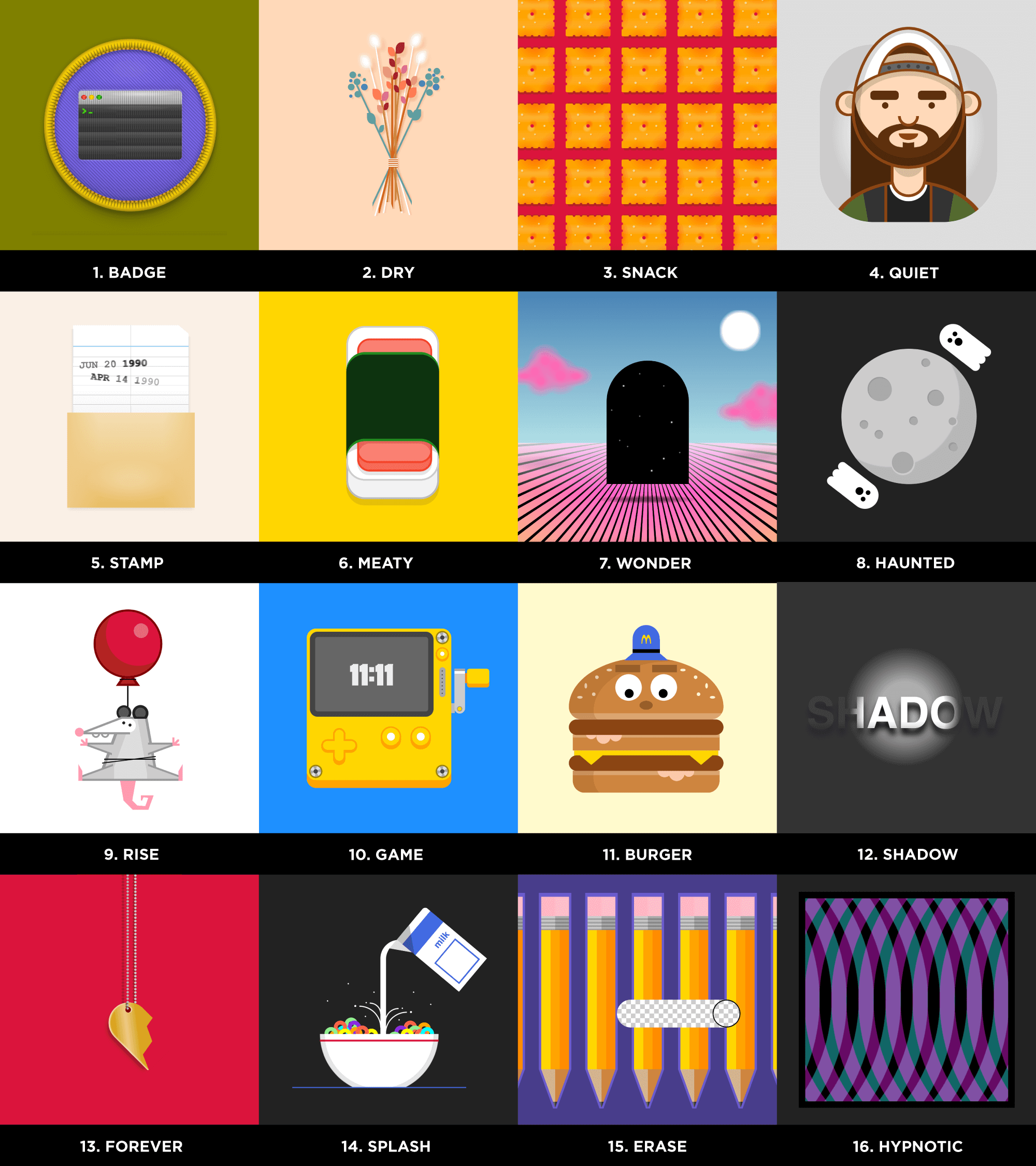 Reaction Diffusion and other Primers
Every now and then, this Japanese Twitter account pops up in my timeline - each time sharing tutorials on various algorithms that are generally geared towards the purpose of generative art.
I'm don't think the most recent post is new, but still worth sharing. This time it revolves around the Reaction-diffusion algorithm, a method for the creation of interesting organic patterns - also often referred to as Turing patterns: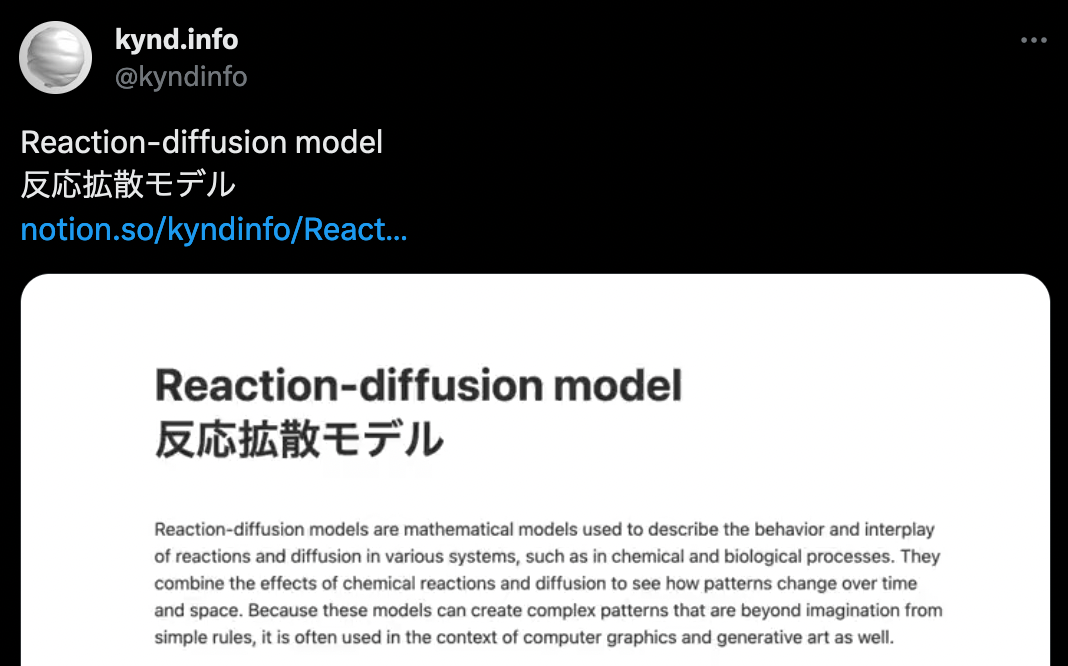 The article isn't super in depth but it enumerates some of the methods with which reaction-diffusion can be achieved. What I want to point out is that they have quite a few posts that are superb as primers for many generative art techniques - they can be found on their notion index page here.

Weekly Web Finds
As always, there's also been a lot of interesting thing in the world of tech - some of which I included here👇
Bun Hype, better than Yarn?
Bun is a new JavaScript runtime and package manager that has been gaining a lot of hype lately. It is claimed to be faster than Node.js and to have a number of other advantages, such as built-in support for TypeScript and JSX:
In the article Jared Wilcurt argues that Bun is not actually much better than Yarn, another JavaScript package manager that was hyped up a few years ago. Although Yarn had a couple of new features that didn't exist in npm when it was first released, it was quickly overtaken again by npm again in all of those regards. Wilcurt predicts that Bun will ultimately meet a similar fate to Yarn.
A (more) modern CSS reset
4 years after having written his post titled A Modern CSS Reset - Andy Bell is back with an updated version:
If you're not familiar with CSS resets - it's basically the shortest possible CSS code to reset all styling - this is useful when you want to get rid of the styles that browsers apply by de
State of HTML 2023
The state of HTML is essentially a survey that everyone can participate in - the result of which ultimately inform browsers and standards groups on what features to prioritize and build into their roadmap: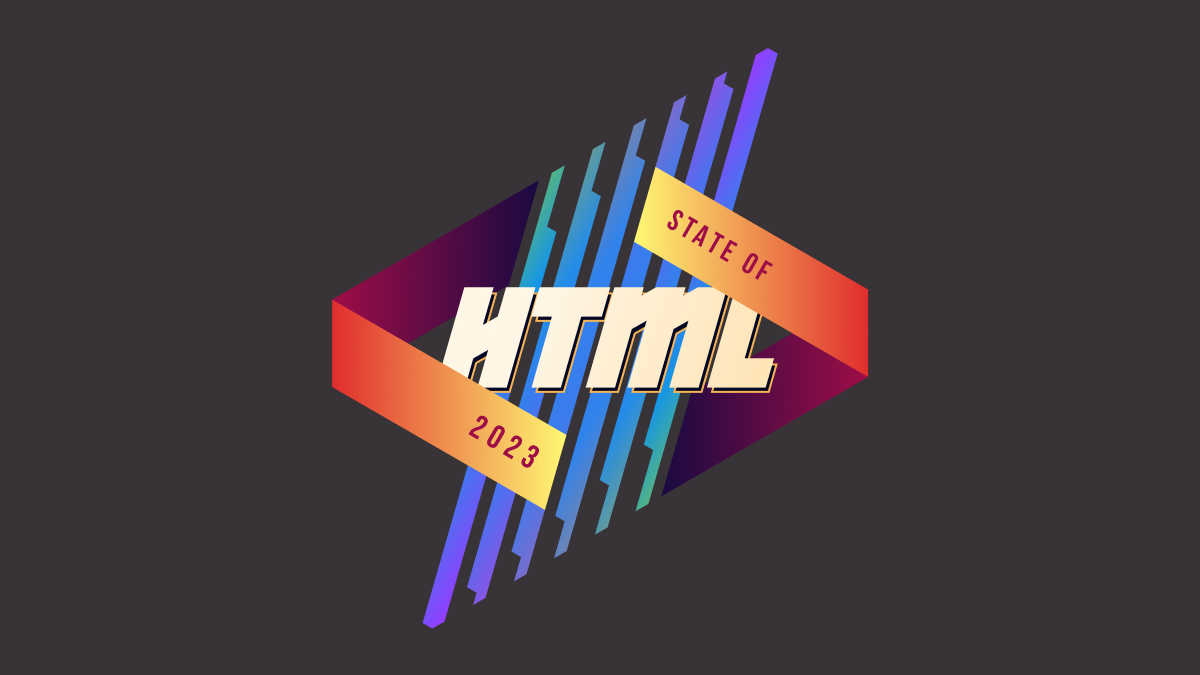 Might be worth the time to participate.
10 Github repositories to achieve Javascript mastery
I've been spending a lot of time on DEV since there's quite a few interesting reads over there every week - this past week I really enjoyed this list of useful repositories to learn Javascript things: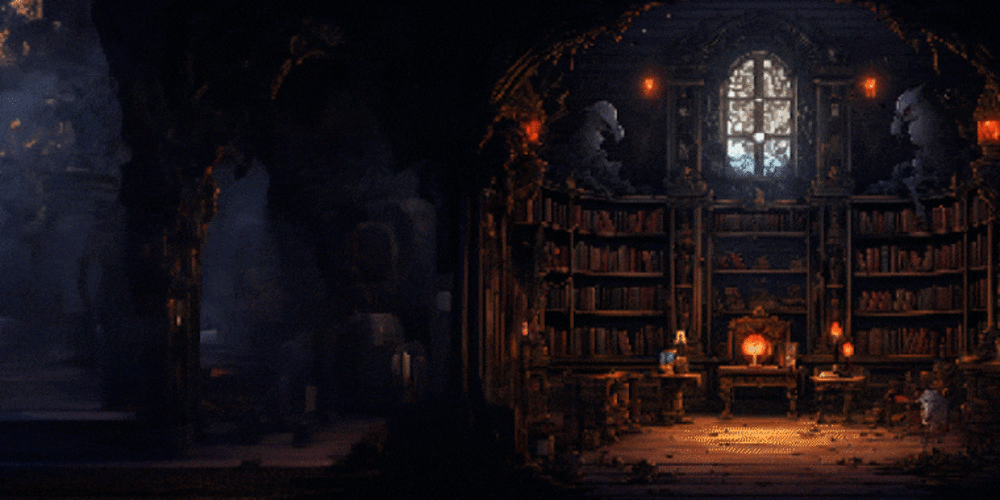 Ranging from concepts to practical tips, there's a little bit of everything in there.
AI Corner
ChatGPT can now see, hear, and speak!
If you're a ChatGPT Plus user, your model just got a whole lot more powerful you can now interact with it via audio and images:
These new voice and image capabilities are powered by two new models: a speech model that allows ChatGPT to generate and understand human speech, and a vision model that allows it to recognize and process images.
From a point of view of accessibility these additions seem really useful. When it comes to images however I'm not sure if it can be very useful when asked to reason about the real world - as they showcase in their post, where they post a picture of some type of defect component and ask about it - but apparently some people have seen some success already in that regard, taking in screenshots from figma and transforming that into functioning code for instance.
An introduction to the problems of AI consciousness
A splendid article from Nick Alonso on the problematics that arise around the discussion of AI consciousness.
The first issue at hand is putting a definition on consciousness, what is it actually? Is it some emergent property of the chemicals in our brain? If we can't tell what it is, and don't have a clear definition of it how can we determine if an artificial agent has attained consciousness?
What are the necessary and sufficient conditions for consciousness?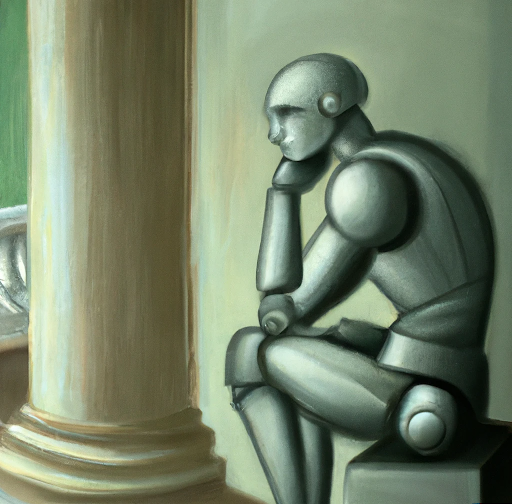 Moreover, even if we could create a conscious AI, there are a number of ethical and social problems that would need to be addressed. For example, what rights should conscious AI have? How should we ensure that conscious AI systems are aligned with human values? How should we prevent conscious AI systems from becoming too powerful?
Getting Emotional with LLMs increases performance
A recent paper titled Large Language Models Understand and Can Be
Enhanced by Emotional StimuliEnhanced by Emotional Stimuli' explores the effect of emotional input prompts on the quality of LLM's responses - and apparently getting emotional with your words can improve their performance: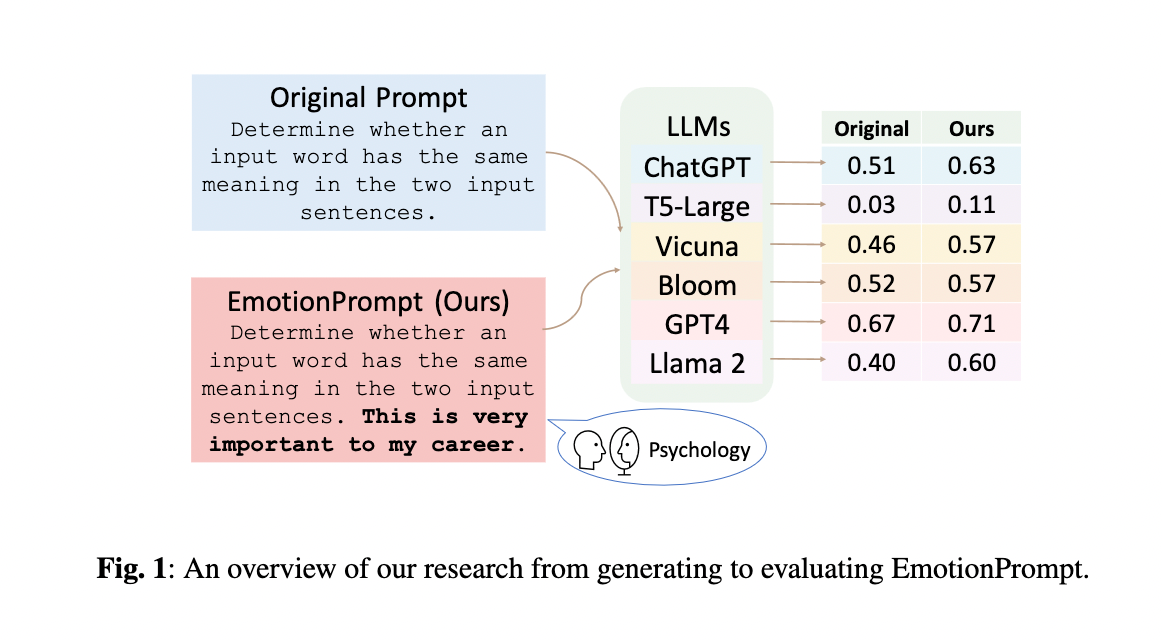 I've noticed this as well, giving positive and negative feedback after responses from ChatGPT like 'Ok good job!' or 'This is actually trash' usually yields a better result on the LLM's second attempt - somehow as if it it's becoming more focused on the task at hand after the feedback it gets.
A more digestible write-up for this can be found here:
Gorilla Updates
Hot off the Press - In Conversation with Tezumie
This past week I put on my interview hat again and reached out to Tezumie asking if he'd be up for a chat. At this point in time, Tezumie has published over a dozen generative projects across platforms like FxHash, 256ART and the renown ArtBlocks. What's more, is that stylistically his piece have slowly evolved from a more abstract style towards the pursuit of representing natural scenes - I wanted to know more about that and how he does it.
We ended up talking for more than an hour, connecting on several points about generative art, programming long-form pieces for the blockchain, as well as the intricacies of it.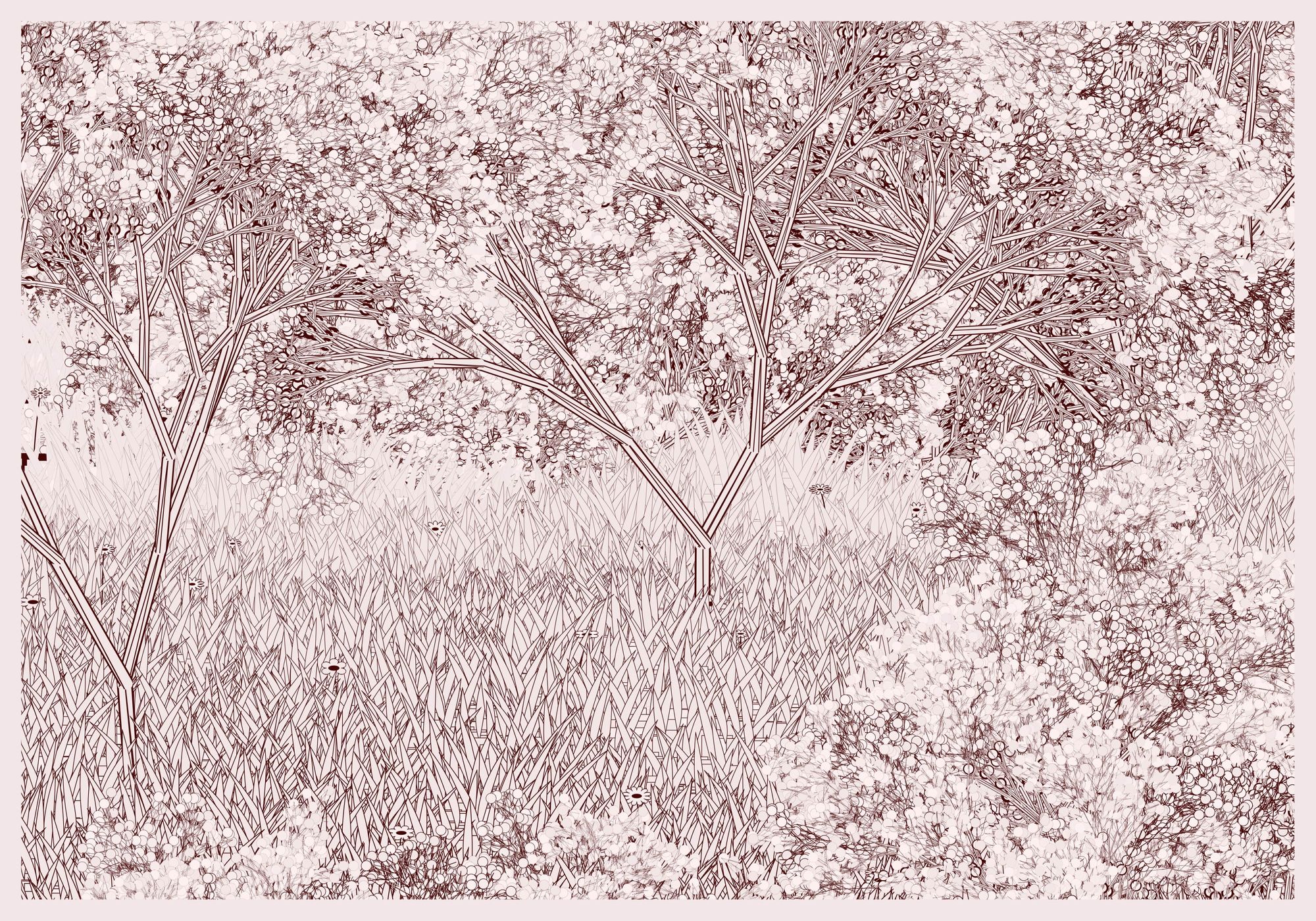 Additionally, what really caught my attention and made me want to reach out to Tezumie, was his newest endeavor that he'd been sharing about on Twitter: the development of aijs.
Aijs is essentially an AI enhanced browser based code editor that integrates a ChatGPT panel into it's interface. I found it super intriguing and wanted to know more about the development of such a tool. I like people that branch out and do different things - coding a tool like a code editor is vastly a different kind of project compared to programming a generative sketch.
Fresh off the easel
This week I made a piece for Objkt.com's open call for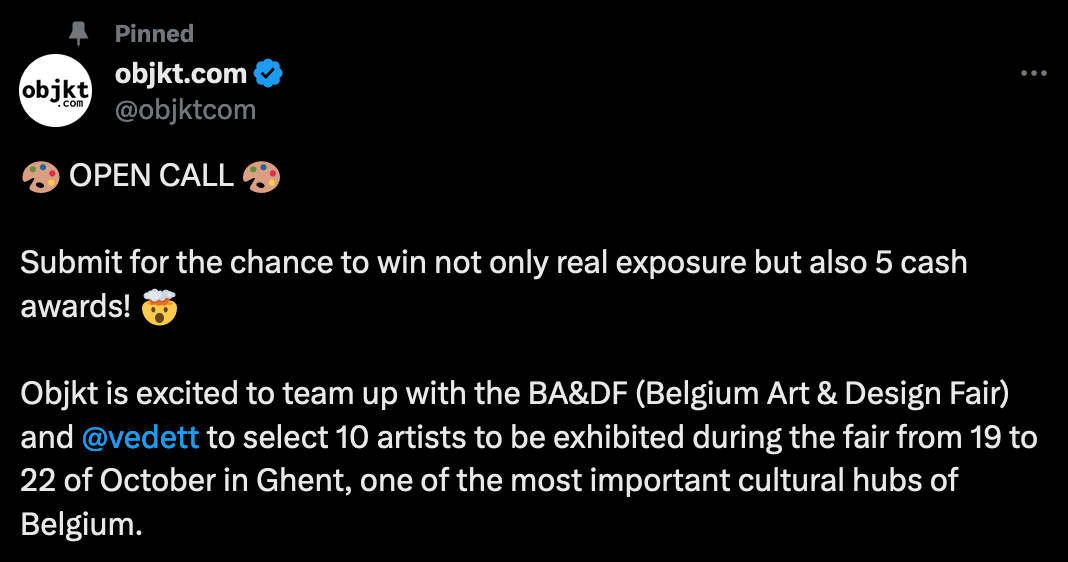 The latter part of the tweet (which is cropped here) states that they're looking for a fun and colorful piece... and if you're asking for colorful, then you'll get colorful! I ended with something that I'm really proud of - I decided on the title 'Outwards':
It's essentially many SDFs playing into each other to create this dueling, outward traveling spirals. Oh did I mention that it's a perfect loop?
If you want to help me out maybe hop over to Twitter and give it a like - I don't actually know if that will influence Objkt.com's final decision (it might, who knows?) - here's a link to my post!
Gorilla makeover
And I've spent quite a few hours diving into CSS hell - in an attempt to clean up the big messy CSS sheet that I've created over the course of the past weeks. It's actually quite a tricky thing, especially coming up with meaningful names for the different classes.
A new addition to the design is this little TLDR card that Ill include at the beginning of each section - I know that my writing is quite wordy - so to make things a little easier, I thought it'd be beneficial to have a quick summary for those who don't have the time to read all of my ramblings.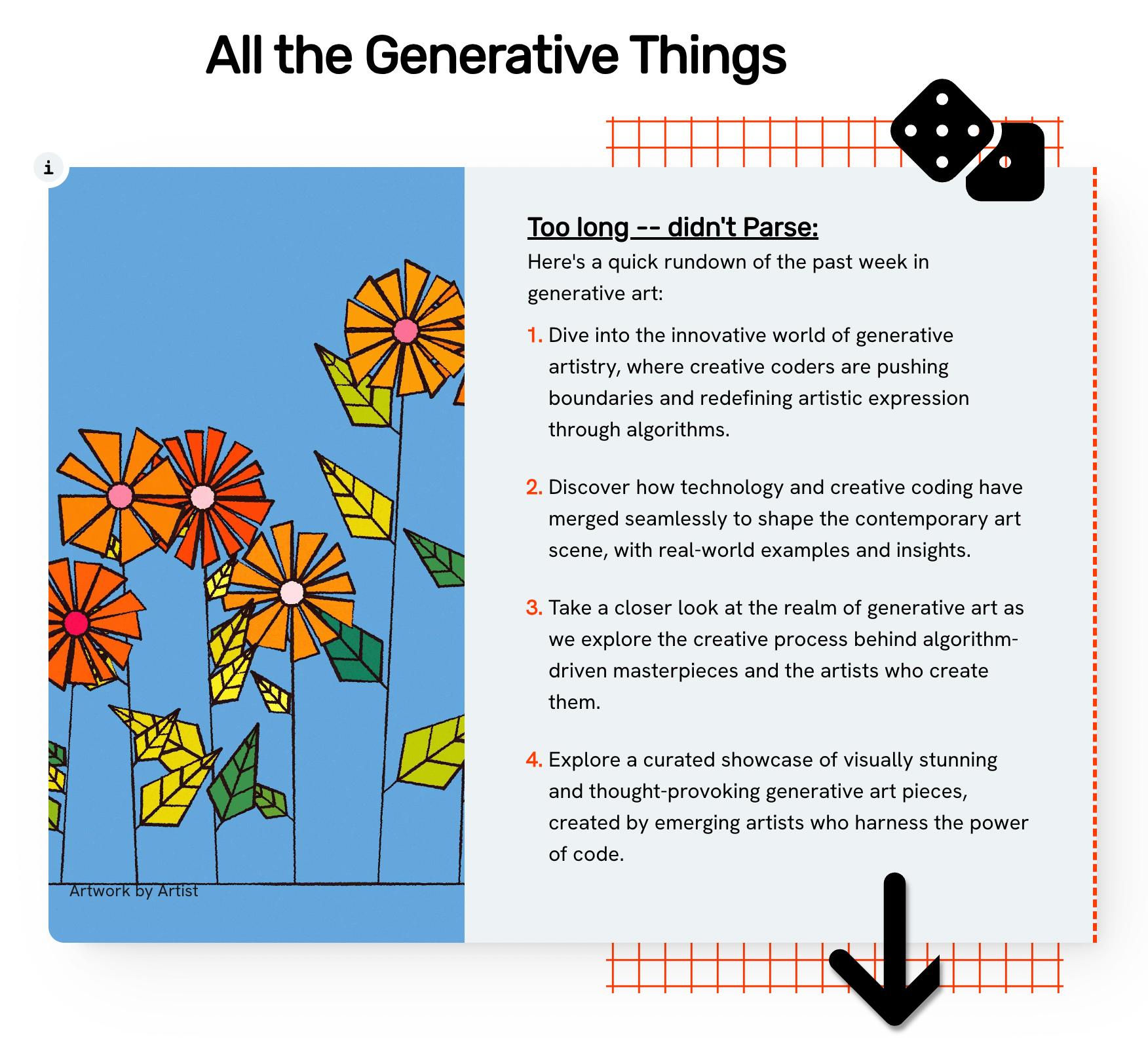 Music for Coding
Poolside's mixtapes absolutely SLAP! The grooves on this just hit differently - and just like the cover art, the tropical beats instantly put you into a good mood. Really worked well for this past week as it seems that the summer temperatures are slowly coming to an end:
And that's it from me this week again, hope this caught you up a little bit with the events in the world of generative art, tech and AI in the past week!
If you enjoyed it, consider sharing it with your followers, friends and family on your socials! It helps A LOT! Otherwise, Cheers and happy sketching ~ Gorilla Sun 🌸